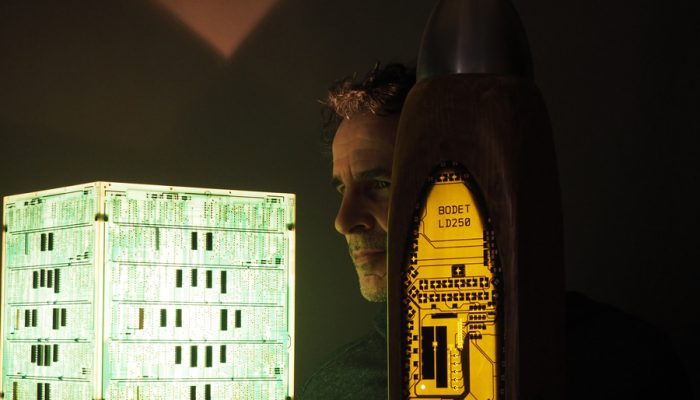 Since the end of the 90's, AVLumen has been hunting and collecting old electronic cards. The composition and graphics of these cards have always been a source of inspiration for him.
He has made them the framework of his creations. Restored and reworked, they come to life with the light and sharpen our imagination. On steel, brass or wood bases, the lamps they generate diffuse a warm ambient light in an art deco spirit.
In recent years, AVLumen has designed a new collection of light sculptures combining the warmth and tradition of wood with the graphics and modernism of electronic boards. Equipped with a new generation of LED lighting, they are elaborated in an artisanal way to give birth to unique pieces. Without their removable power cord, they are exposed as real sculptures. Evoking both contemporary and timeless architectures, they will give a new dimension to your interior.
This designer maintains his eco-responsible and artisanal approach. Before being worked on in his workshop, most of the materials that make up his creations (oak, chestnut and other species, as well as old electronic cards) are all from old industries of the 19th and 20th centuries (shuttles from old spinning mills, barrel staves or other cooperage elements, printing typefaces, old electronic systems, ...).